Softblues Bags Another Excellent Customer Feedback on Clutch!
Located in the heart of Lviv, Ukraine, Softblues is a respected web and mobile development company that has been helping clients venture into the complex digital space since 2006. Over the years, we've been known for our versatility and flexibility working on different types of projects. Now, we're turning our focus into providing excellent JavaScript Technology to help our clients bring dynamic products to life.
We'd love to talk about what's ahead for our JavaScript projects, but don't forget that we're well-versed using different technologies. To give context about our work and our partners' support, we're excited to share with you our latest review on Clutch!

For those of you who aren't familiar with Clutch, it is a B2B market research and review platform designed to help equip browsers with crucial information. The site is dedicated to connecting potential corporate clients to learn more about the right solutions providers.
All-Around Technology Partner
Svitlana Yurkevych, the CCO of AutoBi, a fleet management solutions company, wrote a comprehensive review for our ongoing custom software development partnership. The review was published back on November 22, 2021, and it featured five-star ratings — keeping our perfect score streak on Clutch!
Since January 2020, Softblues has been working closely with AutoBi to build a solid MVP that will solve a gap in the transportation fleet market. In the review, our client highlighted the key technologies we used like Laravel, PHP, Postgres, Redis, Node.js, and more. The end results were great! If it weren't, our clients wouldn't have given us five stars!
Even after launching the product, our partnership has been going strong ever since. We genuinely love working with AutoBi and helping them succeed. Check out what they had to say about our team and the impact of our work!
"They're people of the word. The deadlines are met, and all the features our clients asked for are also delivered timely. The platform helps companies save costs just by tracking, measuring, and taking timely actions. The platform was implemented in over 40 companies and was awarded a national grant from the Ukrainian Startup Fund."
— CCO, AutoBi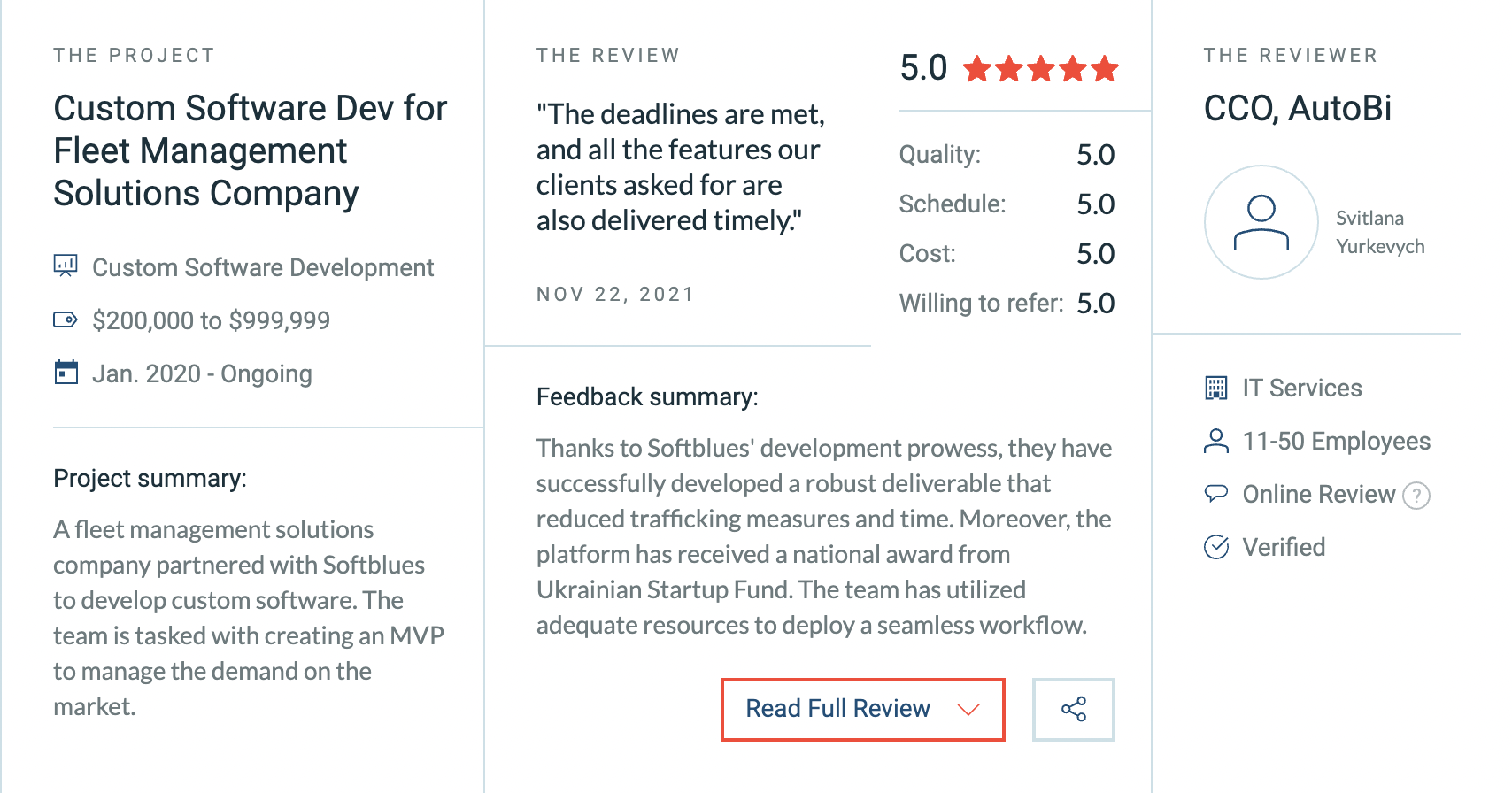 Thank you so much to AutoBi for this fantastic review! We genuinely appreciate you for taking the time to write this awesome feedback. You kept our five-star streak alive, and we're so honored to call you our partners!
Another Honor
Aside from our demonstrated track record on Clutch, Softblues is also recognized by industry experts like Top Design Firms!
Making its debut this year, Top Design Firms is a new B2B platform designed to help browsers by compiling data-driven content about the creative, design, development, and marketing industries.
Following their extensive research, the site ranked Softblues as one of the highest-ranking mobile app developers in Ukraine this 2021! Such recognition wouldn't go unnoticed. We couldn't be more thankful to have this title to our name.
Thinking of a new project? Let's work on it together! Softblues is excited to listen to what you need. Send us a message and we'll get back to you about the next step of the process.