TOP-6 modern education business needs today
Create Personal User Accounts for Students
With personal user accounts, students are able to access their study schedules, courses, track their progress, talk to teachers and chat with peers, do their homework, take all kinds of tests, and receive feedback – all online.
Manage Your Courses Online
Manage your course content efficiently and polish your teaching approaches by providing information about courses in any preferred format, integration options for holding online training, and adding different types of content/assessment tools.
Assistance in adding the course content together with the flexible content copying and pasting instruments will make your work easier and faster.
Drive More Sales
Increase your sales and maximize repeat purchases of your educational tools. You can add new courses straight to the website and provide access to trial lessons. This will enable you to sell more online and offline courses by analyzing your students' database, providing access to any class via membership or subscription, and making the most of email marketing. Regarding the financial area, with an LMS you will benefit from online payment options, tracking your income and keeping all your payments in one place.
Improve Personalization
Teachers can use the LMS tools to develop a personal relationship and communicate more with their students. They will be able to monitor the performance of each student or a whole group, set notifications on each students' progress, provide timely messaging and tutoring tips, and check homework and give feedback in one working environment.
Do a Profound Analysis of Your Business
Provide a new level of transparency and analytics with an LMS:
– Monitor an individual student's or group's progress
– Analyze course results
– View your teachers' performance
– Apply flexible methodology of analytics to your studying process
Boost User Engagement
Get your students involved and motivated with a gamification of the studying process, online testing of different types, automatic notifications based on students' progress, next step instructions, and the electronic issuing of online certificates.
Process of Integration and Pricing
In today's world, it is not enough to just create a standard platform and place your courses there if you want to get a real edge on your competitors  and provide your business with robust growth. A headless future is what we are offering to solve your problem. We offer flexible development based on precise iterations to ensure you implement all the technology you need for your business. All work will be done in a Jira environment with constant access and reporting at each stage.
Discovery Phase

Initial Phase

Development Phase
Deployment Phase
Support Phase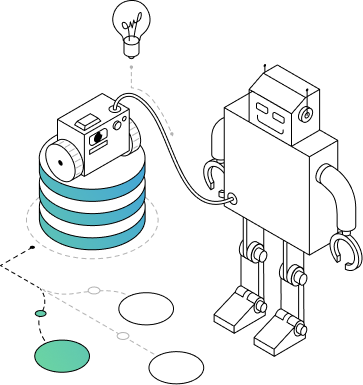 Discovery Phase
At this stage, we analyze your existing business processes and tech stack and choose the most relevant technology depending on your requirements. We also work on initial wireframes, carry out a detailed assessment, and select the experts for your project.
During this time, we also decide whether your project will be started entirely from scratch or based on WordPress technologies. To help you navigate the options, see the list of opportunities: Link to the table in the article.
As a result, you'll get a detailed business analysis of all the features you need, a roadmap of your project, as well as your product's wireframes and an estimated budget.
Team: PM, business analyst, UX designer, Frontend/Backend developers.
Cost: $3,000. Timeframe: 1 month