Concept
Our team boasts 15+ years of experience in agribusiness management, including significant know-how in agricultural processes automatization. This background gave birth to an idea for a modern product that assists farmers with business management. Conceptually, it consists of 2 modules:
 Land bank management, and
Agriculture production management.
Core problem
We offer to the market a cloud-protected complex platform, designed by the All-In-One principle. With a convenient interface and a complete toolset for managing all of the agribusiness aspects.
Users
The system users are the land managers, agronomists, agro companies executives, individual farmers. Anyone involved in the agriculture processes can be a system user.
Сompany launch
The company started operations in June 2020
Launch
The «Land Manager» module successfully entered the market in February 2020 and has sold well in the Ukrainian market ever since. Over 50 corporate clients, with 200k+ hectares of land, currently work with the system. The «Agronomist» module has already obtained MVP status and is ready for sale to the Ukrainian market.
Solution
Our company offers clients a safe cloud-based platform for agribusiness management. It consists of a web application and two mobile apps (separate ones for land managers and agronomists).
Customers
Among our clients are big agricultural holdings, medium-sized enterprises, farms.
Testimonial
Internal stakeholders anticipate the solution to enhance the accessibility of human resource management. Softblues produces high-quality work, complimented by their combination of business and technical expertise. They have a clear, responsive communication style.
Screenshots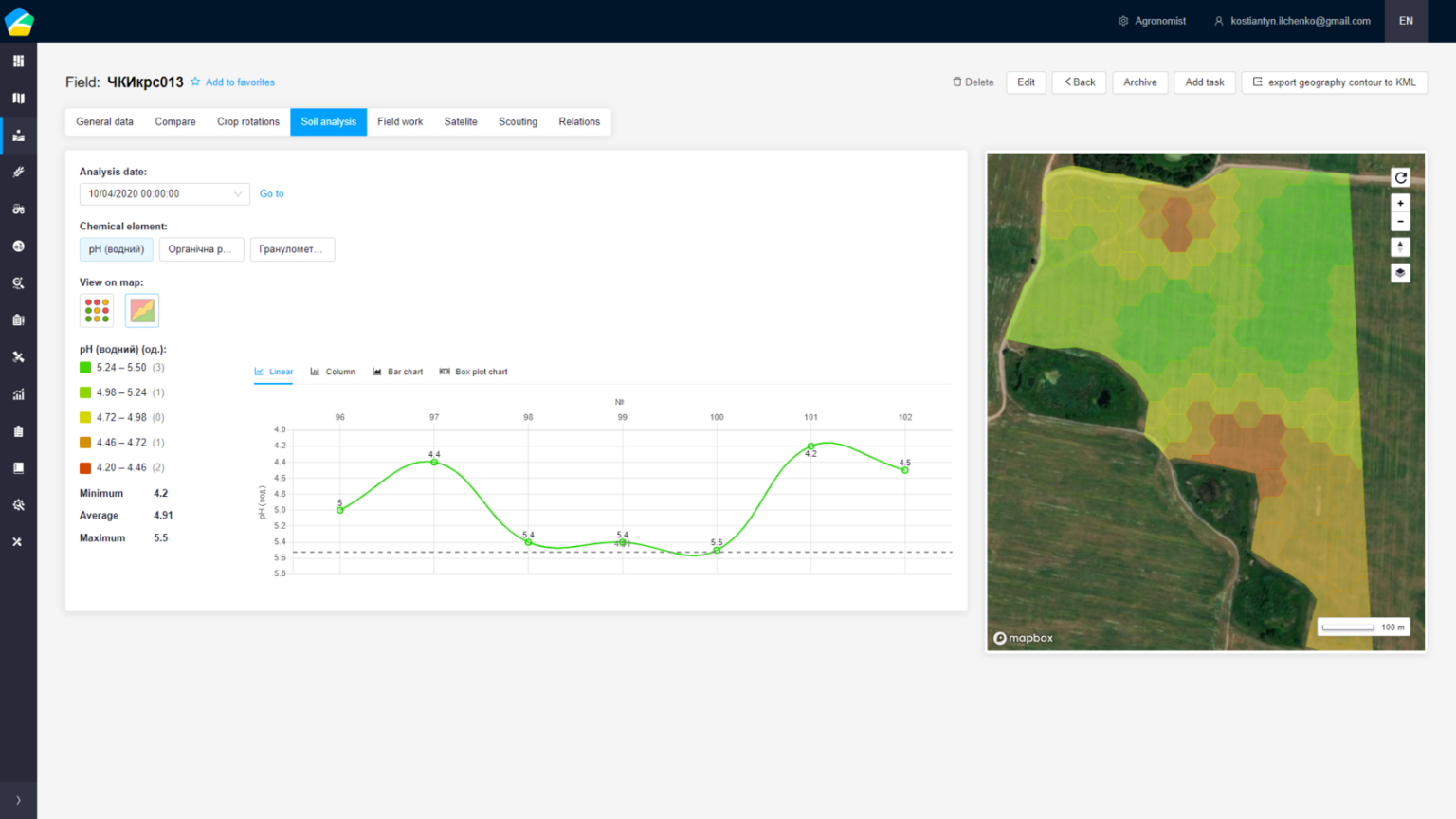 Technology








Team composition
Project Manager
Business Analyst
2 ReactJS Developers
2 ReactNative Developers
3 Symfony/Python/NodeJS Developers
UI/UX Designer
QA Engineer
Partnership period
June 2020 – Present
Front-end achievements
We use React.js hooks to make sure our applications run quickly and reliably. They are very easy to maintain as well.
Our team has implemented visualization of maps, charts, and tables with filters to ensure the smooth operation of big data.
For users' convenience, we've developed a mobile application with all the features of the desktop product version.
Scaling and Security
JWT Token was used for user authorization
HTTP protocols – for security. The framework used in the system is protected from SQL Injection and other types of attacks
Back-end achievements
DataBase migration from MySql to PostgreSql enabled the team to use the PostGIS
module, a powerful tool for working with coordinates. As a result, the calculation of land fields and their coordinates has become very accurate
PHP-7.4 was used for the smooth transition of the platform to PHP-8.0 to speed up several features. Python and Node.JS microservices were used
Implemented features
The block of information cards which are adjusted individually and visualize all actual indicators concerning agricultural production

Visualization of cultivated fields and crop rotations by structural units of the company or administrative-territorial units

A complete list of cultivated fields of an agricultural enterprise with a powerful selection function by key indicators

The rotation of crops for certain periods and by structural units and fields is displayed

The sections show the movement of equipment, all the Polish robots and the quality of their sound for singing time intervals and in certain areas

Task setting for soil selection and clear visualization of the results of laboratory tests

Task setting for conducting scouting by linear agronomists, viewing and visualization of reports by fields, structural units and administrative-territorial units

Formation and review of technological maps of fields and crops, display of planned operations and search for discrepancies

Display of satellite images of fields obtained by different technologies, their analysis and visualization on the cultivated fields

Powerful analytics unit with the ability to track the periods of cultivation area, yield, gross harvest, impurities, gross income, etc.

Task setting for various types of work with the ability to track performance and communication

Always be aware of weather changes in the short- and long-term periods.