MSGD Studio Ltd
MSGD Ltd is web&graphic design studio in Leighton Buzzard, Aylesbury, Milton Keynes and surrounding areas. It enables and delivers business success through creative and bespoke services in graphic design, web design and Ecommerce solutions.
Ranplan is an innovative UK-based wireless technology company that has developed world leading software tools for outdoor/indoor wireless network planning, design and optimization, using advanced 3D in-building modeling and 3D RF propagation and simulation.
The companies cooperated in order to implement a WordPress based integration with Cision Communications Cloud to ensure the effective multichannel connection with Ranplan Wireless stockholders.
Excellent communication, extremely helpful and produced very high-quality work. Very happy 🙂
Darren Bond
Digital Director at MSGD Studio Ltd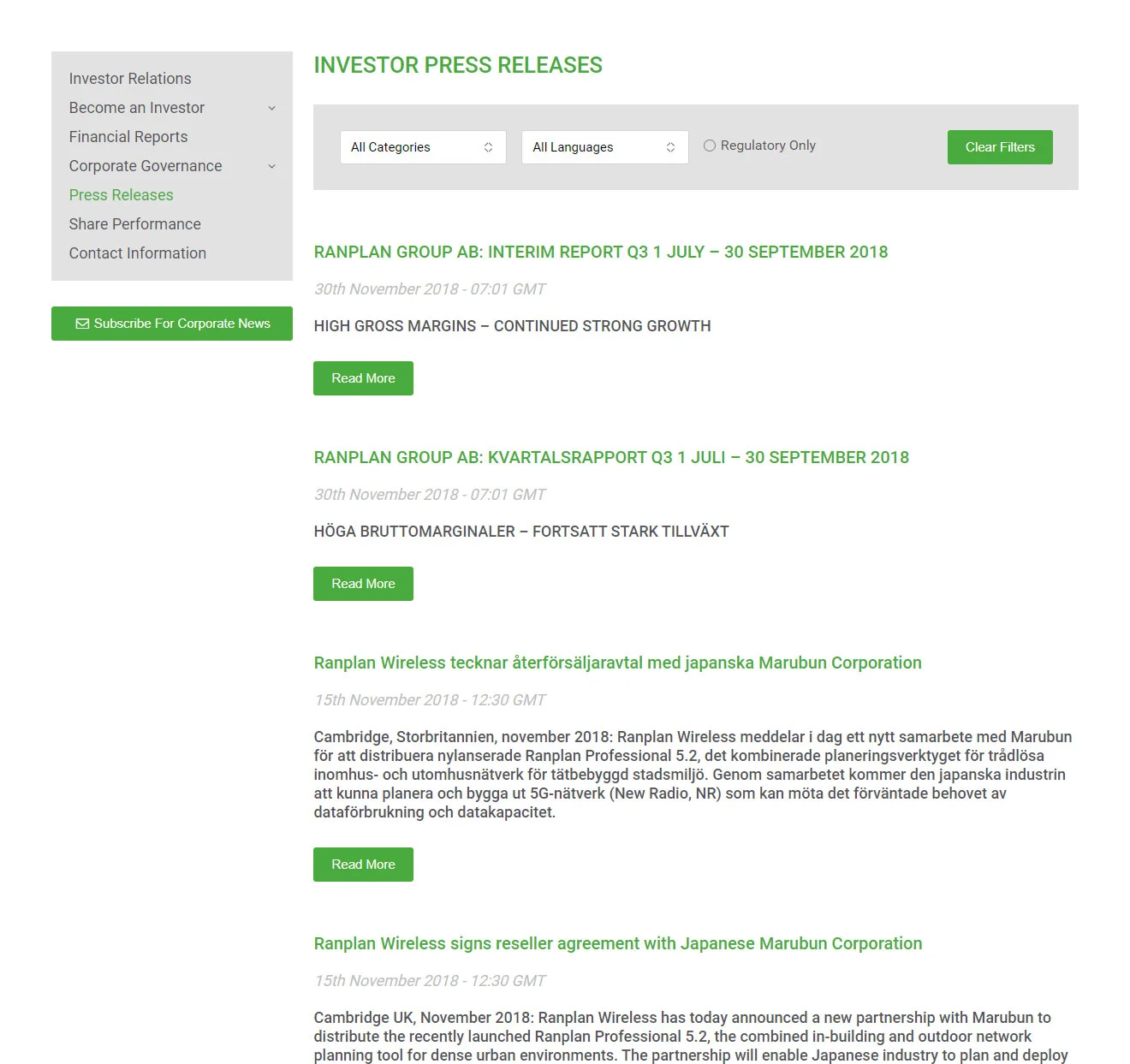 Challenges
SoftBlues task was to implement the integration of the Ranplan Wireless website with Cision Communications Cloud which is a platform that provides communication with company customers through different channels, monitoring, and analytics. Plus, it enables thought leaders to share their opinions on the ongoing events. We integrated the Nasdaq stock pricing schedule with Ranplan Wireless website. The delivery time for this project was crucial as all tasks had been expected to be finished before the start of stock market trading. The team had only two weeks for the project.
Bussines Benefits
New level of communication with company clients

Increased thought leaders' impact

Real-time updates to stock market changes

More effective audience engagement
Solution
First of all, SoftBlues provided MSGD with some consulting, analyzed the available APIs and focused on the possible solutions. This resulted in the accurate estimate and backlog creation and once everything was approved by MSGD and Ranplan Wireless, the team started to operate in no time.
While we produced all the back-end integrations, MSGD was involved in UI design and conveying the Ranplan Wireless corporate identity. We also contributed to the graphics output of the information that was transferred from Cision SaaS.
As a result of cooperation, the Ranplan Wireless clients are able to leave their contact information and receive newsletters via Cision. Plus, all the blog feeds are generated by SaaS and transferred to the corporate website and other client communication channels.
Finally, all the news aggregated at Cision Communication Cloud are published on the Ranplan Wireless blog https://ranplanwireless.com/news/ and all the real-time stock trading info is presented in the real-time mode.
Our joint project lasted for 13 days. All QA testing was also completed timely and after the final part was approved by the client, we started a little party to celebrate great teamwork.